Our Brave New (Online) World
There has been discussion for some time now about online content, webinars and higher education.  With the onset of COVID19, many entities have made the switch to online in recent months.  I have become an avid participant in many of these webinars and wanted to share some observations about how different ones run, the benefits and what other changes may come about later.
BC (before COVID19), I would occasionally signup to a webinar.  I was also going to weekly 'live' seminars in conferences close to me (Shanghai, Suzhou, Zhejiang, etc.).  But that has dramatically changed since mid-January.  For three months I worked at home and found myself attending a growing number of webinars.  Now I participate in about 2 – 4 every week.  I find they are a good for information and as a source of networking.  I am still trying many new ones before I decide on what my 'regulars' become.  Here are four I will refer to in this article that I recently participated in:
22 April – World Bank (Washington DC), WebEx, SME Finance Forum
30 April – Swissnex (Zurich/Shanghai), ZOOM, Cross Cultural Communication on the BRI
4 May – 11FS (London), Mitek Systems via LinkedIn, Breakfast Show: Discussion with Bharat Bhushan, Chief Technology Officer for Banking and Financial Markets at IBM
6 May – Qatar Financial Centre (Doha), ON24, Fintech, a Catalyst for Growth During COVID-19
There are currently so many webinars it could easily lead to 24/7 registrations.  So, deciding a focus is key.  The three industry segments we focus on at SEIML are:
Healthcare
Industry 4.0
FinTech
However, I also believe it is good to stay in touch with broader themes of global economics and regulation and, working internationally, cross-border culture and communications.  I very occasionally register for something completely different just for personal knowledge; I sat through a Swissnex webinar on quantum computing some weeks ago just so I had some very basic understanding of what it is all about (and, yes, it is rocket science).  Topics and, thus, your focus are always important in what you do.
The next important selection criteria for me is how well a webinar is run.  In this sense, an online webinar has many similarities to a 'live' seminar in what you expect:
Good information sent out well in advance about agenda, speaker biographies, getting the right times; not always simple when attendees are from many cities and one city may just be going on daylight savings times
How smoothly webinars run; some run like clockwork whereas others do not seem to have been rehearsed and you find speakers who cannot figure out how to change their slides when they are remote from the moderator 🙂
Follow-up: does the host send all the participants the slides after the event is over?  Some but not all do, and this is a valuable resource one can build up
Are the webinars recorded so that you can watch them at another time? This is important for webinars 'on the other side of the globe'; a webinar in New York City at 14.00 EDT would be 02.00 the next day here in Shanghai – not ideal
Contact details for speakers, moderators and attendees. Usually, contact details (emails) are provided on the speakers' slides (hopefully sent out after in case you were not fast enough to write them down while live)
The connect between these webinars and other social media (LinkedIn, Twitter, etc.) also makes for more effective networking, for those who choose to do so
The contacts for attendees vary quite a bit from, most commonly, 'no list', to the Swissnex strategy of posting on LinkedIn and tagging all the persons who attended after-the-fact.  The World Bank WebEx lists all attendees 'live' in a column as the event is running (you can choose 'anonymous' if you like).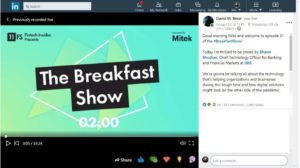 The breakfast show is recorded so that viewers can watch it after-the-fact.
It will be interesting to see if this 'online world' reverts back to 'the old ways' after COVID19 is over.  I hope not.  Though there is clearly value in interpersonal contact, this online communication really does open-up the world to you.  How else could you attend a seminar in New York on Monday, London on Tuesday, Qatar on Wednesday and Shanghai on Thursday – and with no expenses related to travel or accommodation (and no travel fatigue)?
Net-net, I see this increasing online world as being very value-added to any of us in business, educational institutions or anyone just looking to increase their knowledge of the world around us.
The Entities Under Threat from the Online World
Whenever there is major disruption, there are winners and losers.  If there is a permanent move from physical meetings to online meetings, what about the below industry segments:
Convention facilities, either stand-alone or in hotels
Hotel rooms
Travel facilities (planes, trains, cars)
Business attire
And what about the 2nd order effects?  If 'online' becomes 'the thing', will work-at-home become the norm for many people and how will it affect our work and family life?  What about Higher Education?  There are online universities and, I think, all universities have some online capability.  But, having been in HE in the UK and China for twelve years, I sense most universities largely operate with a more traditional (face-to-face) learning model.  A lot more change could be in the offing.
Addendum
Aldous Huxley wrote Brave New World in 1931 and it was characterised as:  '…giving warning of the dangers of giving the state control over new and powerful technologies.'  Technology is a facilitator – for good or for bad.  Let us try to use communications technology for good in moving forward our industries, work life, family life and education.  It definitely has the potential.
John D. Evans CFA
Founder of SEIML
7 May 2020