SEIML: Industry 4.0, China and Germany
I spent 36 years of my working life in the international financial markets, the first 24 as a practitioner and the latter 12 as an academic.  During that time, I witnessed how technology (desktop computers, Internet, mobile phones, etc.) completely transformed the financial industry.  Now, working with SMEs in many industries, healthcare, 'smart manufacturing', automotive, I am seeing how technology is dramatically changing those industries.  Participating in a recent conference in Frankfurt, Germany gave me real insights into Industry 4.0 there and the potential for its application here in China.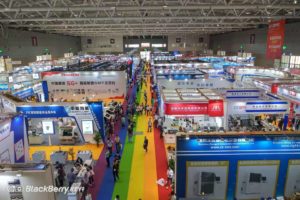 The recent story for me started when attending a 'smart industry' conference in Shenzhen November 2019.  This was organized for SEIML by the EAChamber and involved industry from China and abroad, with a large section of companies and research entities from Germany (photo to left).
I had always been interested in technology and financial markets but quickly realized I had missed how much technology was changing almost everything we do – it was not just the driver for the financial industry.
One other thing I learnt, though it may appear obvious to the reader, is that technology for the financial sector is quite different from the technology used in industry that make (manufacture) 'real things'.  The financial sector is a service industry dealing with intangibles, money, securities and other financial contracts, and is largely about data aggregation and analysis.  But when you are producing tangible goods, the story is much more complex.  Data analysis is important, but so is the technology used to produce, like a 3D printer as just one common example.  So, it became clear to me very quickly I had a lot to learn to move from the financial space into the manufacturing industry.
Fast forward to Frankfurt, Germany where I was two weeks ago for a China – Germany industry conference.  Within the EU, Germany stands out in two ways.  First, it has a very large 'Mittlestand' or SME's focusing on the manufacturing sector.  As manufacturing is still a big part of China's economy, it should be no surprise that Germany has the largest trade/investment with China of any country in the EU.  There is also another very important connection.  China is trying to 'upgrade' its manufacturing, not just in what it produces but also in its production processes; the move to 'smart manufacturing'.  German know-how is well-placed to assist China in this advancement as it has many governmental and industry R&D centers and incubators that assist local German industry in achieving the best production processes using state-of-the-art technology.
Since returning from Germany, we have started working with Johannes Vizethum who is a leading expert in this area, both in Germany and in China.  The objective here will be to create 'smart manufacturing' Innovation Labs in local municipal cities of China, supported by local government and industry.  This will be a center of engineering and technological excellence for the local industry to upgrade its manufacturing processes and for the municipality to be a more attractive location for encouraging industry (both domestic and foreign spin-offs) to set-up in its jurisdiction.  With competition for new investment heating-up between cities in China, creating this sort of advanced 'eco-system' (R&D lab, incubators, companies that build prototypes for new companies to scale-up), this will become a source of competitive advantage for cities in China that are prepared to make this investment.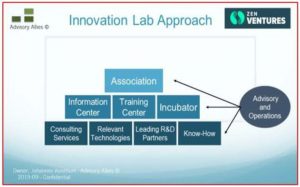 Over the course of 2020, we will be working with Johannes on his strategy of setting up these key manufacturing eco-systems in China and also helping German spin-offs to work in partnership with local industry to bring the true 'smart manufacturing' to many areas of China.
As trade relations are being redefined globally, this is one area of great promise for collaboration between China and Germany.
John D. Evans, CFA
Founder of SEIML
2 December 2019