Captain Karlsen and His Unique New 'Gift of Health' From the Sea
Far north in the Arctic Circle of Norway is a small company with unique new health supplement from the sea. Founded in 2009 by Arild "Captain" Karlsen, Nordic Light Krill &Fish Oil is a powerful formulation unlike any other on the market.
Script
Speaker:                            John D. Evans, CFA (JE)
Title:                                   Adviser to ALP
Company:                          Arctic Light Products AS (ALP)
URL:                                    https://www.northernlightproducts.no/english
Date of Presentation:      14 March 2022
Story of Captain Karlsen
Far north in the Arctic Circle of Norway is a small company with unique new health supplement from the sea. Founded in 2009 by Arild "Captain" Karlsen, Nordic Light Krill &Fish Oil is a powerful formulation unlike any other on the market.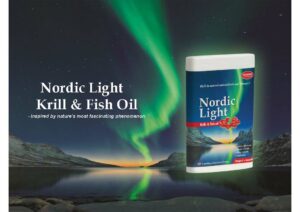 After years of running a fleet of fishing boats, Captain Karlsen wanted to change course and create a fish oil product that was "better than fish." In 2008 he hung up his captain's hat, sold the fleet, and invested in his vision. His desire was simply to make "the world's best fish oil product."
Next year, the first box of Nordic Light Krill & Fish Oil rolled off the production line.
Arild has been involved with the sea all his life. It's a family tradition. His grandparents were skipper-fishing folk. Dad was a skipper and a fisherman. And Arild himself went to sea at 15 as a deckhand. He worked his way up to helmsman…then skipper…and was promoted to Captain at age 21.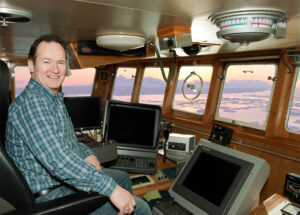 As a Captain, he had an excellent reputation. "I have always been lucky at sea and got a lot of fish. When we came to the fish farms to sell the fish, people would say, 'you are a skilled fishing boat captain.' But Captain Karlsen gives the credit to his crew.  "I say that a skilled crew makes a good skipper or captain."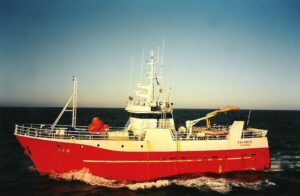 Arild was deeply impressed by the benefits he discovered about krill and fish oil. He wanted to make a supplement that was unique in the marine oils market.
He hooked up with a professor at the University of Tromsø who specialized in Omega 3s. Arild was warned that the product he envisioned would be very expensive to make. He insisted that not only would they make it… but that they would sell it at a competitive price. He knew that if he made a superior formula– and people experienced a better quality of life–the money would follow.
Concerned about the toxins that can build up in the liver of the fish, Arild chose to use the fish meat oil, not the fish liver oil. Nordic Light's fish oil is extracted under low heat conditions between 55-100 degrees Celsius. This preserves the integrity and nutrition of the oil. No chemicals are used. The oil is pure, clean, and unadulterated. It is then tested for purity several times at the factory, and approved by the Norwegian Food safety Authority.
A study from UC Berkeley found that cod liver oils can contain low levels of pollutants such as Lead, PCBs, pesticides, and arsenic. Because the liver is a filtering organ, that's where toxins can build up. Experts at the University of Surrey in the U.K. recommend that consumers "change to a formula that contains less cod liver oil." Nordic Light skips the cod liver oil in favor of the cleaner fish meat oil.
The fish used in Nordic Light comes from the pristine waters of Norway's Barents Sea, far north in the Arctic. The oil comes from fatty fish, such as mackerel, sprat, herring, and capelin.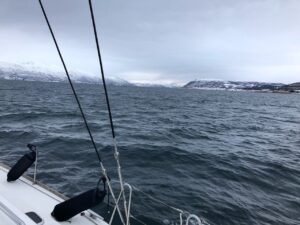 The krill oil is from Aker BioMarine, one of the world's leading producers of sustainably sourced krill oil. It is harvested in the pure, cold waters of Antarctica.  Nordic Light Krill & Fish oil is chock full of Omega 3s, antioxidants, and a dash of D3, which works synergistically with the oils.
Krill and fish oils provide a wide range of critical benefits such as brain health, memory, and concentration. They chase away the winter blues. These vital oils help counteracts sore and stiff joints, inflammation, and premature aging. They offer welcome relief from PMS… and offer nutritional support during pregnancy.  Nordic Light also provides immune support… helps normalize cholesterol… supports a healthy heart… and increases stamina. In short—it helps you feel good all over!
Nordic Light Krill & Fish Oil is a highly concentrated blend of oils and nutrients that complement each other. This potent formula gives you maximum benefits in one small, easy-to-swallow capsule. There's no unpleasant flavor.  Arild says, "When we mixed the fish oil with krill oil we got a good fish taste of the oil, not the cod liver oil taste I did not like."  Krill oil is unique. In its pure form, it's dark red, almost black. Arild's idea was to blend it with just the right amount of fish oil to achieve a beautiful rich red. "What inspired me to mix krill and fish oil into one product, was that we should get the nice red heart color." This symbolizes how Arild is "working from the heart."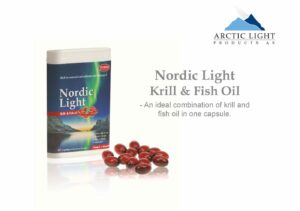 Further, one of his goals was to expand into the Asian/Chinese market, where red is a powerful color, symbolizing luck, beauty and joy. It is the traditional color worn by Chinese brides, and represents fertility and vitality. And fittingly for a new company… good fortune and success.
Family and friends were very supportive of the Captain's change of course. Arild's mom jumped on board and loved the product because it helped her arthritis.  "My dear wife bought the right to my capsules in 2010, after I worked out the product in 2008. So my dear wife Irene owns the company and I am the founder. "
He reminisces, "When the first box came off the production line, I started taking it. Then I told my dear wife that she should start using it. She said she did not need it because we eat fish two to five days a week. But after I had taken it for 2 to 3 months, she saw the effect and energy I got. Then she also wanted to test it. What was adventurous was that she had forgotten that she had great pain in the joints of her fingers. After she had used the product for 3 months, almost all the pain was gone. When she next went for a check-up at the hospital, she told that the pain was gone. The doctor said, "This product is good for joints."
"Another story is that I received a message by email from a customer in 2010 who is still a customer. She said, "Arild, this is most likely your first negative message. I wake up 2 hours earlier in the morning after I started taking your capsules. I do not want it but I get 2 hours more of my life, ha ha."
As a seafaring man, Captain Karlsen is superstitious. Tromsø is his hometown and the headquarters of Arctic Light products. Tromsø is famous for its spectacular displays of Northern Lights. This magical phenomenon can be seen nightly during the long winter. Mystical lights sweep through the polar skies in swirling sheets of colored flame.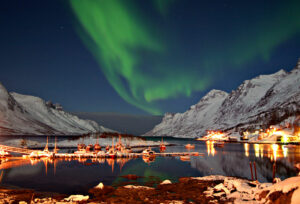 "Anyone who has seen the Northern Lights knows that it makes an impression. It is said that the light has a magical effect on both people and fish. Our raw materials come from the northern lights sea. The name Northern Light came to me while I was working on finding the right color for the product, the red heart color."
Looking to expand globally, Arild partnered with Innovation Norway in 2010, when he attended EXPO 2010 in Shanghai. After a setback or two, he finally got the permits to sell in China, Viet Nam, and Russia. Arild hopes to continue to expand the company into more foreign markets.
We wish him all the success in the world.
End.