SEIML Data Lab: helping start-ups in China succeed
In today's world of start-ups the focus is on 'hi-tech'. That is appropriate given all the new discoveries being made in science, health care and many other areas. But, every start-up is a business and needs to be commercially successful, otherwise it will fail and close. The fundamentals of business management and administration are essential to the success of any company. SEIML has created its own Data Lab to provide a variety of business, economic and demographic data to help companies succeed in today's competitive market.
I spent the first twenty-four years of my life working in the international capital markets. All of my work involved capital raising (and secondary trading) for large, publicly-listed companies and governments. These large entities produced vast amounts of financial and other information through their filings, as did their competitors. There was no shortage of data to analyze these companies, rather, sometimes it seemed there was too much data to review. Also, these large companies had a wealth of highly trained staff to help them with every aspect of their business. I then left industry and started university teaching related to financial markets and investment management. Again, a wealth of information to review, assess and do research on.
In 2016, I decided to return to the private sector given the opportunities I saw with new start-ups here in China. It was a fascinating change for me. In some ways similar, helping companies to raise capital and plan business strategy but, in other ways, very different. Firstly, the world of private capital is much more opaque than public markets; not a lot of data to help plan your company's strategy or for PE investors to assess new companies. Also, companies are small and cannot afford to hire a large number of professional managers. This is an issue given that the principals of these new companies are largely scientific or technical people, not people with 'general business experience'.
AT SEIML, we are trying to address these structural market hurdles for start-up companies. Firstly, we assist them in business strategy at a very low retained fee, taking a small stake in the company to allow them to preserve their cash in this early stage. We provide a similar service to PE investors by not only doing the company analysis and valuation but, also, the due diligence, which is something essential in China. But, we realized to give good advice to company or investors, the lack of data was an issue.
To address this data issue, we created the SEIML Data Lab, which is provided for free to retained clients (though used extensively by us, in-house as well). Company management and prospective investors have to analyze the same issues, though from a slightly different perspective. Assessing the market size, how much will be the market capture, competitor analysis and benchmarking, etc.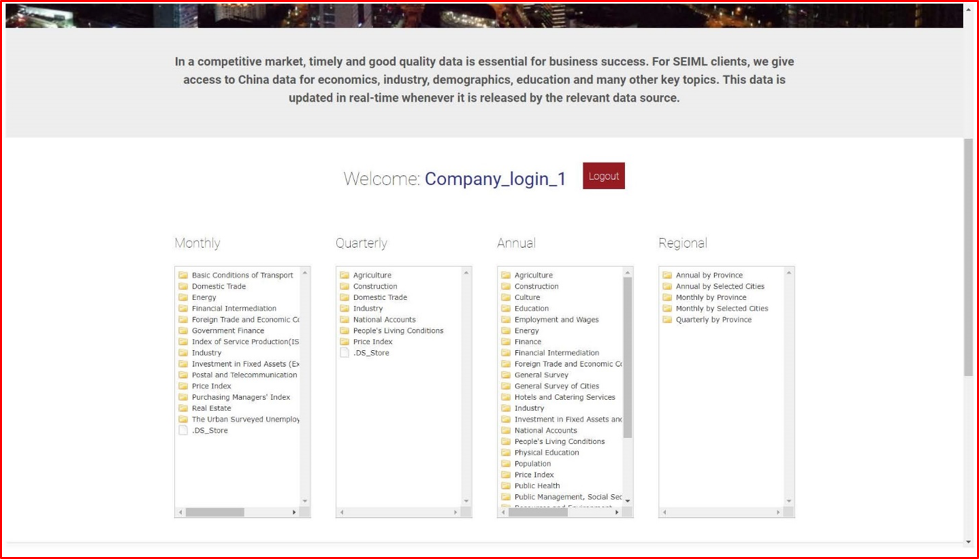 We are fortunate in that in China the availability of industry and related data has increased dramatically over the last few years. The problem is that it remains highly fragmented and, thus, time consuming for company management to access all the data it needs. With the help of colleagues in the technology and university industries, we have created our Data Lab that will be introduced in several stages. We have just launched the data sets for China in economics, industry statistics, demographics, education and some other variables. This is derived from over sixty different sources and aggregated in a simple format via our website. This will help companies with basic business strategy, particularly as they try to achieve the first hurdle of 'revenue generation'. Over time, we will add data related to IP, patents and other key variables for the companies that we focus on.
In one sense, what we are doing with the data is by no means 'hi tech'; this is a simple process of identifying, aggregating and providing to our clients key data in a convenient way; meeting a market need. We also hope over time to help develop the market for company data (financial and other internal data) to grow the database of start-up companies to allow for further 'big data' analytics to help develop predictive models of which new companies are more likely to succeed. But, one step at a time.
SEIML will always be a small, boutique firm. But it is our hope that in building this 'data infrastructure' for start-up firms we can help create the market infrastructure that allows companies and investors to be more successful in early stage companies, not just for the benefit of the companies and investors but for the economy in general. That is what 'making a market' is all about.
John D. Evans, CFA
Founder of SEIML
12 August 2019